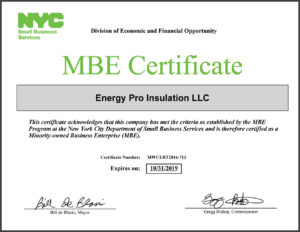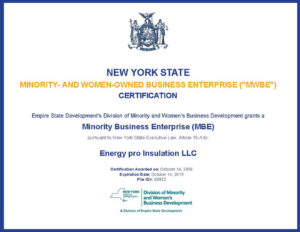 How can YOU benefit
from hiring a MWBE business?
(

Minority and/or Women-Owned Business Enterprise

)
Answer:  To fulfill the NYS's and NYC's MWBE program's purpose:
1. PURPOSE STATEMENT: " To promote equality of economic opportunities for MWBEs and to eliminate barriers to their participation in state contracts". We supplement New York State's economic leadership with information and resources that increase access to information and opportunities for minority- and women-owned businesses throughout the state.
2.  To give smaller businesses an opportunity to compete while leveling the market which has been in the past filled with larger companies. EnergyPro is proud to be a Minority-owned business and we are grateful for the opportunities that the certification might afford us. With this Certification we can have the ability to provide proposals on State & City jobs that were previously reserved only for much larger companies and fulfill your mandates in this category.
---
EnergyPro is Proud to be Certified by both New York State and New York City as a Minority-Owned business
Capabilities statement attached
Contact if you need to satisfy the Minority Business fulfillment for your next project  >