EnergyPro Insulation – NY Spray Foam Insulation Contractor
NYC Insulation Contractor Servicing – Staten Island – Brooklyn – Queens – Manhathan – Bronx
SAVE UP TO 45% ON YOUR ENERGY BILLS. Energy efficient spray foam insulation, when properly installed, deliver energy savings of up to 45% for the life of your property.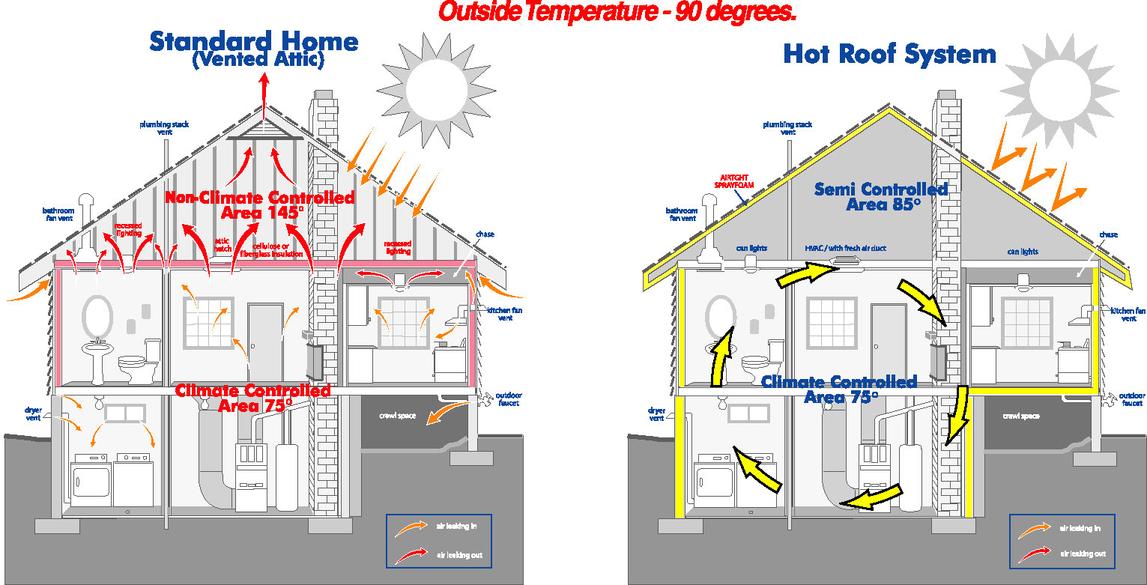 ​Adding insulation to the attic, walls facing the exterior of the home, under the floors, exterior and interior walls, the basement, and the crawl space(s) are the best sections of your home to notice a substantial improvement on lowering energy consumption.
​Designing, building or retrofitting an AirTight home is a professional approach to identifying traditional building envelope problems and correcting them through the use of spray foam insulation and other air sealing products. Conventional insulation products do not address many of the building envelope concerns that exist today such as:
​​Most  homeowners want a house that is safe, comfortable and easy to heat and cool.
Green homes begin with the the many parts of a house so they work together as a whole.
Heat and Cold move from one object to another; air and moisture move inside our homes.
Green building practices, as well as the selection of appropriate building materials, revolve around a few basic principles of science.
​​For installations of low VOC products (Icynene Classic Max and Icynene ProSeal) in the United States ONLY, re-occupancy of the job site is permitted after 2 hours provided that the rate of air exchange during spraying and for 2 hours thereafter equals or exceeds 40 Air Changes per Hour (ACH).
​​Choosing the quantity and type of insulation are the two most important decisions that affect the comfort and energy efficiency of a house. It is the most important phase of implementing the principles of building science.
​​Insulation level are specified by R-Value. R-Value is a measure of insulation's ability to resist heat traveling through it. The higher the R-Value the better the thermal performance of the insulation. The table below shows what levels of insulation are cost-effective for different climates and locations in the home.
Changes to the residential building code and consumer demand for energy-efficient homes gives you the opportunity to differentiate your home designs from the rest and still fit into your construction budget. Energy-efficient residential insulation such as Icynene spray foam insulation performs consistently year-round without compromising on performance, comfort and efficiency.
The ideal insulation for your cathedral ceiling is spray foam insulation, because of its ability to expand into small areas,cracks and holes to create an air seal regardless of shape or angle.  New York Spray Foam Insulation. New Jersey Spray Foam Insulation.
Spray Foam Insulation Cost, Price per Square foot, New York, NJ, if you select a light-weight density product the value are often roughly regarding $0.44 to $0.65 per cubage unit whereas choosing a closed-cell insulation product will value roughly $0.87 to $1 per cubage unit. Again, these prices ought to bethought to be a guide solely.
Spray foam insulation is the next step in the evolution of residential insulation. The American Chemistry Council defines spray foam as a continuous insulation and air seal plastic material that is sprayed on walls, roofs, into gaps and corners, and on all contoured surfaces. OPEN CELL SPRAY FOAM $0.44 TO $0.65 PER BOARD FOOT. CLOSED CELL SPRAY FOAM $0.87 TO $1 PER BOARD FOOT. MINIMUM SERVICE CHARGE PER JOB IS $2100 TO $2500
Is your friend's house to hot in summer, cold in winter! Please give them our name or number. Milton Siavichay.  347-838-0498 If the referral leads to a sale, we will mail you a check! Starting 2.3% = $50, or more, of the total cost of the Job sold, MINIMUM SERVICE CHARGE PER JOB IS $2100 TO $2500