Want your insulation done correctly, providing warmth, energy savings, and structural integrity during storms, Sprayfoam insulation is the solution and we are the providers in the area.
EnergyPro Insulation was incorporated by Gary Grecco in 2009. EnergyPro has been insulating buildings for over the past 10 years and the building trades for over 25 years. The past 6 years we've incorporated Building Performance best practices, Energy Audits and Sprayfoam insulation. As Staten Island's only NYSERDA Home Performance spray foam, contractor we are required to have Quality Assurance checks periodically by the State to maintain the high standards of customer interaction set by NYSERDA and the high standards of Training and Home Assessment set by BPI (the Building Performance Institute). EnergyPro also does Batt Insulation (Fiberglass & Mineral Wool) as well as Firestopping and Fireproofing.
We currently have a team that includes; Estimators, Energy Auditors, LEED AP, NYSERDA PV and Solar Thermal installer, Sprayfoam, Fireroofing/Firestopping & Cellulose Technicians, Weatherization specialists, general laborers, and an office manager that holds it all together.
We currently have professional Sprayfoam crews ready to handle any size residential & commercial application. Our trucks generally travel the Greater NYC Metro area, but we have traveled up to 100 miles for specific jobs.. We are a trained and authorized Icynene Spray foam contractor and familiar with major industry suppliers. Some of our common Sprayfoam applications include Open Cell and Closed cell foam.
As the NYC Energy Codes were updated and implemented in October 2016, we realized that our prior training, expertise, and experience would position our services to be in higher demand. We believe in our high quality product sources. We pride ourselves on our quality installations, best practice in the building trades. We welcome the new changes to our building codes and the resulting improvements in building performance.
Save money and live more comfortable. 
We are a 
MBE Minority Business Enterprise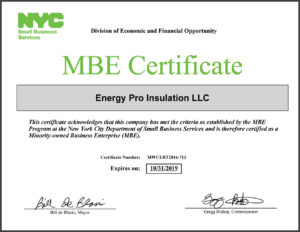 What are the benefits of being a MWBE (Minority and/or Women-Owned Business Enterprise)?
 The purpose of NYS's and NYC's MWBE programs is " To promote equality of economic opportunities for MWBEs and to eliminate barriers to their participation in state contracts. We supplement New York State's economic leadership with information and resources that increase access to information and opportunities for minority- and women-owned businesses throughout the state."  Read more >
ACCREDITATIONS
EnergyPro Insulation In Staten Island only  BPI GoldStar Contractor & proud to be apart of NYSERDA's Home Performance with Energy Star Program.
We Offer Open Cell Spray Foam and Closed Cell Spray Foam Systems 
Spray foam in Staten Island​ – Spray foam in Brooklyn – Spray foam in Queens – Spray foam in Manhattan  – Spray foam in the Bronx – Spray foam in NYC

OUR TEAM
We're committed to building a weld you can be proud of.
Our staff members are highly skilled and have years of experience and certifications. But, their dedication to making sure your needs are met doesn't come from that, it comes from within. And it's embraced and appreciated by all of our staff. 
 Get to know our experienced Team. They've got the skills, and a desire to help. Come see why no shop is as qualified or convenient as we are.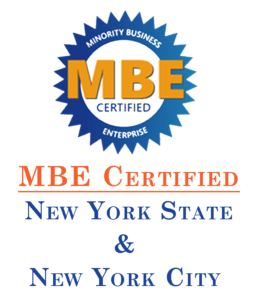 ENERGYPRO SPRAY FOAM IN NYC | BROOKLYN | STATEN ISLAND
We're committed to providing you with the highest level of service, so you'll always be happy that you chose us. 
Spray foam Insulation is a trade that most people aren't familiar with. Here at EnergyPro Insulation, we promise to never unfairly take advantage of someone who needs our services. We pride ourselves on our honesty and integrity and we firmly believe that you'll see the difference when you choose our company. We've also been family- owned and operated from the start. 
We may not be related, but you'll feel like we're family.
WE ARE PROUD TO PARTICIPATE WITH: